23/04/2019
Around the Giro: 5 cycling routes on the roads of Piedmont. Wine, castles and breathtaking views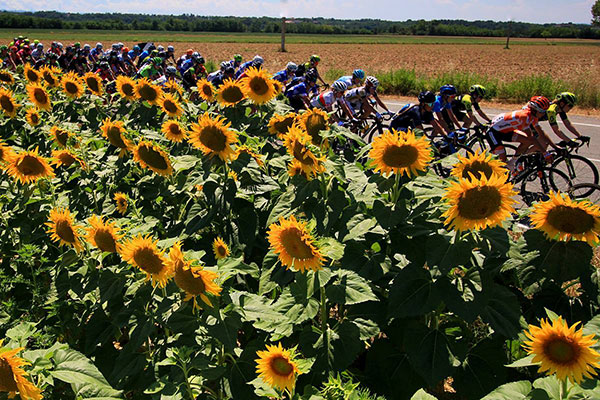 While waiting for the Giro, we took inspiration from the many routes usually proposed to amateur cyclists and we selected five with various characteristics and varying degrees of difficulty. Several attractions and places of historical and tourist interest to explore along the routes. The absolute protagonist is wine. The real King of this region to ride and enjoy.
1) Barolo classic (49 Km)
Starting from Alba, it is possible to take the cycle path to Roddi. Here you can stop in the small square of the Town Hall where the Parish Church of the Assumption with its baroque façade and the medieval castle overlooking the Tanaro Valley rise.
Continue to Verduno and cross La Morra to reach Barolo, the small orange flag village of the Touring Club, home to the Wine Museum (WiMu) and the Corkscrew Museum (Museo dei Cavatappi). Two stops particularly appreciated by lovers of tastings and strong flavors.
From Barolo, continue towards Castiglione Falletto and return to La Morra. From here you can descend to Grinzane Cavour with its castle which was once the residence of Count Camillo Benso di Cavour and today a UNESCO site as well as the headquarters of the Piedmontese regional wine cellar.
From the Castle cyclists face the climb to Diano d'Alba, another mandatory stop for the famous Dolcetto and for the view that you can enjoy over the Langa. After filling the eyes of the panorama, you can descend towards Alba.
2) Cycling among the Champions museums (71 Km)
Waiting to see our champions at the Giro Rosa Iccrea, we can warm up by covering the 71 km that separate Novi Ligure and Castellania, arrival of the first stage.
The route starts from the Museo dei Campionissimi in Novi Ligure where you can discover the history of great cycling and the myth of Coppi and Girardengo. From here you can cross the Tortona hills, practically an open-air museum with its ascents, descents and excellences of the territory: peaches, cherries, strawberries, cheeses and Barbera and Timorasso wines.
With eyes full of colors you get to Castellania, birthplace of Fausto and Serse Coppi. Here is the Casa Museo, open to the public by appointment, and the Mausoleum dedicated to "the Heron" of Italian cycling. Continuing you arrive in Alessandria where the AcdB Museum is located. A place which tells the story of the first bike to arrive in Italy in 1867.
3) Da Biella a Oropa percorrendo l'Oasi Zegna (45 Km)
Partendo da Biella si va verso Tollegno, si costeggia la riva destra del torrente Cervo e si percorre la salita della omonima Valle. Dopo aver passato Andorno, località rinomata per la lavorazione del liquore alla ciliegia, si arriva a Sagliano Micca, partenza della terza tappa del Giro Rosa Iccrea (domenica 7 luglio).
Si prosegue per Campiglia Cervo e Rosazza dove vale la pena ammirare il Castello con la torre guelfa e la Casa Museo dedicata alla civiltà montanara. Usciti da Rosazza inizia la salita che porta al Santuario di San Giovanni e a Oropa. La salita è impegnativa: sono 9 Km con pendenza media del 7,3% che aumenta fino al 24% negli ultimi 300 metri.
Il Monte di Oropa è patrimonio Unesco dal 2003 e insieme al Santuario è considerato il più importante luogo di culto mariano dell'arco alpino. Da qui si scende a valle per 13 Km di tornanti con tratti al 13%. È una delle salite rimaste legate al nome di Pantani che proprio qui fece una delle sue straordinarie rimonte.
Si prosegue poi per Biella Piazzo, la parte più antica della cittadina e dopo averla attraversata su arriva di nuovo a Biella, il punto di partenza.
4) Colle del Lys (77 Km)
È uno degli itinerari classici per chi vuole esplorare la fascia che unisce la Bassa Val Susa e le Valli di Lanzo. Sono 77 Km in tutto con 960 metri di dislivello ed è un percorso piuttosto impegnativo per i cicloamatori. Il premio di tanta fatica, però, è la meravigliosa vista che si gode pedalando nel Parco Naturale di Colle del Lys. Un panorama che va dalla pianura a nord di Torino a quella del Cuneese fino alle Alpi Marittime.
5) Tra le Residenze Reali (14 Km)
Chi vuole restare a Torino e vivere la città in maniera alternativa può approfittare del tour tra le Residenze Reali. Il tour guidato viene fatto con le biciclette a pedalata assistita lungo le piste ciclabili della città attraverso i luoghi più iconici e quelli meno conosciuti della prima capitale d'Italia. Per un tratto si pedala lungo il Po per un totale di 14 Km circa.
Tra i luoghi toccati dal percorso segnaliamo i Musei Reali, Palazzo Madama, Palazzo Carignano, Castello Valentino, Villa della Regina, Pizza Vittorio Veneto, la Mole Antonelliana e i Giardini reali.